Warrior was a Shot Putt machine from Solihull school in Birmingham. It appeared in the first series of the Techno Games however if forfeited after one attempt at the games.
Robot History
Edit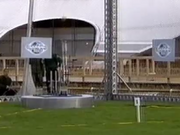 Warrior had a complicated system to how it would throw the shot putt, however this complicated system didn't effect the way it threw as it manged to throw first try. The shot putt went three metres in the air but hardly gained any great distance from the throw.
Unfortunately for Warrior the team found some problems with their mechanism which forced the team to retire from one attempt.
Ad blocker interference detected!
Wikia is a free-to-use site that makes money from advertising. We have a modified experience for viewers using ad blockers

Wikia is not accessible if you've made further modifications. Remove the custom ad blocker rule(s) and the page will load as expected.