Waddle was a robot from Boston Spa Comprehensive that competed in the Battery Sprint during Series 1 of Techno Games in 2000. It performed surprisingly well as it won overall after beating Lemming and eventual two time Battery Sprint champion Scuttle.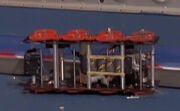 In Waddle's first heat, it went up against Scuttle. Despite Waddle having the much slower start, Scuttle went out of control and almost all of its legs came off the track. Scuttle fell onto its side and it was put back onto its feet. Scuttle ended being disqualified after reaching the finish line with no legs left. Because of this, Waddle had no competition and finished smoothly at 3:43:93. This win put Waddle to the Battery Sprint finals, where it faced Lemming.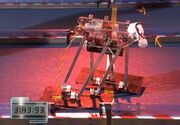 In the finals, Waddle got the better start as Lemming couldn't get going. Lemming was walking really slowly and couldn't catch up with Waddle. Waddle was heading straight for the side wall but it was slightly moved by one of the team members. After this, Lemming was still struggling to finish and Waddle finally crossed the finish line first at 3:49:52. In the end, Waddle received the gold medal in the Battery Sprint.