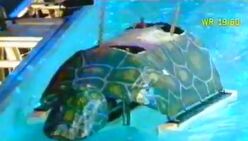 Turn Turtle was a robot that competed in the Swimming event during Series 3 of Techno Games but lost in its first heat to Roboduck and Bouy-Ant.
Robot History
Edit
Turn Turtle was up against Roboduck, Jigosaurus, Buoy-Ant and Stealth Stingray. Turn Turtle started off slowly but was ahead of Stealth Stingray, it tried to catch up to Roboduck. Unfortunately, Turn Turtle seemed to have some problems and ended up driving into the pool wall and got stuck, where it laid there for the remaining seconds.
Ad blocker interference detected!
Wikia is a free-to-use site that makes money from advertising. We have a modified experience for viewers using ad blockers

Wikia is not accessible if you've made further modifications. Remove the custom ad blocker rule(s) and the page will load as expected.