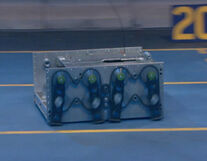 Scuttle B²
was a
Heavyweight Sprint
entrant from
Techno Games
2002 and 2003. It was actually walkerbot
Anarchy
from
Robot Wars
and the team also entered Techno Games with
Transpower
. The team also built a smaller version of Scuttle-B-Squared called
Scuttle
, which won the lightweight sprint events in Series 2 and 3 after self destructing in the first series.
In its heat, it obliterated the WR with a time of 15.19 seconds against Critter.
It then beat its record with a time of 13.06 seconds in the semi final against Black Widow.
It then beat Ulysses in the final to claim the Gold.
It returned the following year and easily beat the really slow Cyborg in round 1.
Ad blocker interference detected!
Wikia is a free-to-use site that makes money from advertising. We have a modified experience for viewers using ad blockers

Wikia is not accessible if you've made further modifications. Remove the custom ad blocker rule(s) and the page will load as expected.