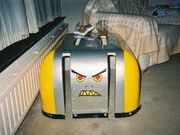 Savage Toaster was a
Football
entrant of Techno Games 2002 and 2003. The team entered Series 2 to 5 with Onslaught (which entered Techno Games 2003 as
Wipeout
). Savage Toaster was originally intended to enter Robot Wars and was armed with a rear hinged lifting arm. Savage's paint job inspired Onslaught's successor(s), Ka-Pow! and Ka-Pow! 1.5.
A.A.T. and Savage Toaster worked together in the Football and beat Celestrial Terror and Smash and Grab in round 1. They lost their semi final to Team Snow Cat after scoring just 3 goals compared to Team Snow Cats 5.
Savage Toaster returned to the Football working with Ickle Toaster, forming Team Toaster. It was eliminated after their partner's speed sent a bowling ball flying into the audience and Ickle Toaster's team decided to withdraw. This happened in Ickle and Savage's quarter final match against Team Typhoon, in which Savage Toaster did nothing more than block the goal but the Ickle and Savage was losing when the match stopped.
Ad blocker interference detected!
Wikia is a free-to-use site that makes money from advertising. We have a modified experience for viewers using ad blockers

Wikia is not accessible if you've made further modifications. Remove the custom ad blocker rule(s) and the page will load as expected.