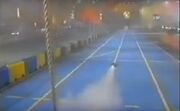 Rocket Cars was a event for rocket cars. Races in this event was over in a instant due to the sheer speed of the racers, some reached speeds of 75mph or more. A sub class version called Funny Cars appeared in 2002 and 2003.
???
???
???
???
???
???
???
???
Medalists
Edit
Wobbly Wheeled Wonder vs Zippy: Wobbly Wheeled Wonder won (1.434 secs)
Light Storm vs Red Arrow: Light Storm won (1.852 secs)
Lightning vs Syzygy: Lightning won (1.397 secs)
31 13 vs Catalyst vs Charter's Flyer vs DAX C.B.M.: 31 13 won (1.829 secs)
Doggy Fast Trax vs Lightstorm 2 vs Mach 0.26 vs Plastic Meltdown: Lightstorm 2 won (1.037 secs)
Prestissimo vs Rapid Rickshaw vs Silver Bullet vs Purple Panjandrum: Prestissimo won (1.717 secs)
Turbo Flame vs Whizzer vs WWW2 vs Torpedo: Torpedo won (3.190 secs)
Blue Streak vs T-Bird vs White Lightning vs ???: White Lightning won and qualified (2.0349 secs)
??? vs ??? vs ??? vs ???: MaidenT1 won (2.3927 secs)
Greased Lightning vs Touch of Grey vs WWW3: WWW3 won and qualified (2.1085 secs)
Nemesis vs Baby Cheetah vs Rockets in Black vs Phoenix: Rockets in Black won (2.2888 secs)
??? vs ??? vs ??? vs Flash in the Pan: Flash in the Pan won and qualified (2.0997 secs)
Sabotage vs Blink vs Dax 2 vs Purple Panjandrum II: Blink won (2.2268 secs)
Blew Lightning vs Street Runner vs Heywire vs Blue Streak: Blue Streak won and qualified (1.9017 secs, new WR)
Ad blocker interference detected!
Wikia is a free-to-use site that makes money from advertising. We have a modified experience for viewers using ad blockers

Wikia is not accessible if you've made further modifications. Remove the custom ad blocker rule(s) and the page will load as expected.