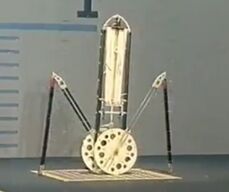 Rivet Rivet was a robot that competed in the High Jump and Long Jump events during Series 2 of Techno Games. It set a impressive height in the first jump before falling to jump due to exploding on the second attempt in the High Jump whilst retaining the Gold Medal in the Long Jump after getting 4.41m and 6.5m, more than all of the other competitors. The team previously won the Long Jump in Series 1 with FleaBot. They also competed in Robot Wars with Eleven, which lost its first and only match.
Ad blocker interference detected!
Wikia is a free-to-use site that makes money from advertising. We have a modified experience for viewers using ad blockers

Wikia is not accessible if you've made further modifications. Remove the custom ad blocker rule(s) and the page will load as expected.