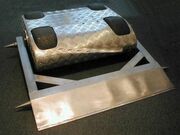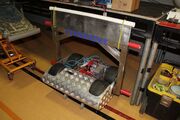 Joker
was a
Sumo
competitor from
Techno Games
2003. It was a stand in that was used in the Sumo after spending almost a entire day not being needed. It lost its only match due to not having the right attachment for Sumo. Joker has resurfaced under the name
Shockwave
and has started competing in the 2015 Robot Wars events.
It lost to Storm Chaser after the intended blade for Sumo was not at hand so Joker went in with the Football scoop resulting in Joker doing a wheelie and getting pushed off in 18 seconds.
Ad blocker interference detected!
Wikia is a free-to-use site that makes money from advertising. We have a modified experience for viewers using ad blockers

Wikia is not accessible if you've made further modifications. Remove the custom ad blocker rule(s) and the page will load as expected.