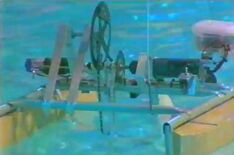 Jigosaurus was a robot that competed in the Swimming event during Series 3 of Techno Games but lost in it's first heat to Roboduck and Bouy-Ant after breaking down at the start.
Robot History
Edit
Jigosaurus was up against Roboduck, Turn Turtle, Buoy-Ant and Stealth Stingray in its heat. At first Jigosaurus overtook the competition and was in the lead, but seconds in it became immobilised and stopped moving, which made it lose the competition.
Ad blocker interference detected!
Wikia is a free-to-use site that makes money from advertising. We have a modified experience for viewers using ad blockers

Wikia is not accessible if you've made further modifications. Remove the custom ad blocker rule(s) and the page will load as expected.