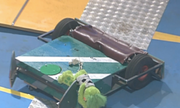 Gator
was a
Assault Course
entrant from Techno Games 2003. It is possible that it is from the Loony Cycle Team, given that they wear similar cowhide waistcoats.
Its heat against Manannan in the Assault Course was only briefly shown but what was shown was both robots getting to the ramps and getting stuck, ending their run in the Assault Course.
Ad blocker interference detected!
Wikia is a free-to-use site that makes money from advertising. We have a modified experience for viewers using ad blockers

Wikia is not accessible if you've made further modifications. Remove the custom ad blocker rule(s) and the page will load as expected.