Frog of Darkness was a Long Jump competitor from the Lawrence Sheriff school. Despite it appearing to be a plastic bottle covered in green tape there was more technology behind it. It appeared in the first ever series of Techno Games in the Long Jump event where it lost in its only appearance.
Robot History
Edit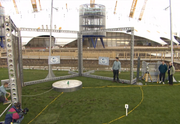 Frog of Darkness was pumped before hand and was released using a switch that released all the pressure. As the countdown came to an end there was a slight two second delay for Frog of Darkness' launch but soon it flew in the air and landed at reasonable distant, only for the competitor to split into two halves. It gained a distance of 5.55 metres but this was not enough as Fleabot ended up getting further and won the event.
Ad blocker interference detected!
Wikia is a free-to-use site that makes money from advertising. We have a modified experience for viewers using ad blockers

Wikia is not accessible if you've made further modifications. Remove the custom ad blocker rule(s) and the page will load as expected.