Fleabot is a large Long Jump competitor from Laneborough school in Surrey. Fleabot only appeared in the 2000 Techno Games Long Jump event where it won the event.
Robot History
Edit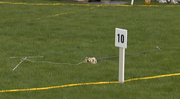 Fleabot used a mechanism that only uses kinetic energy, which made the robot act like a harpoon when fired. Like the Frog of Darkness, Fleabot had a slight second delay however it soon shot up in the air and went extremely far and almost reached ten metres. Fleabot managed to win the Long Jump competition for the year with a distance of 8.70 metres gaining the gold medal and becoming champion.
Ad blocker interference detected!
Wikia is a free-to-use site that makes money from advertising. We have a modified experience for viewers using ad blockers

Wikia is not accessible if you've made further modifications. Remove the custom ad blocker rule(s) and the page will load as expected.