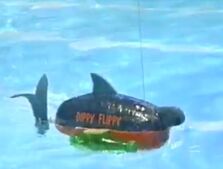 Dippy Flippy was a robot that competed in the Swimming event during Series 2 of Techno Games. It performed very well as it placed 4th overall behind Brutosaurus, Calypso and K9000. Dippy Flippy won in Heat 3 against Splash Fun Barbie .
Ad blocker interference detected!
Wikia is a free-to-use site that makes money from advertising. We have a modified experience for viewers using ad blockers

Wikia is not accessible if you've made further modifications. Remove the custom ad blocker rule(s) and the page will load as expected.