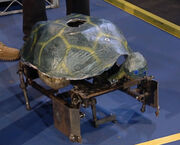 Dave The Tortoise entered the Sprint event in Series 2 of Techno Games. It was made by the same team that entered X-Terminator in Robot Wars from Series 3 to 7, entering both series of Extreme.
Dave was up against Don't Walk On The Grass and Tecumseh in its heat. As soon as the race started Dave attempted to get a move on but ended up stearing to the left and accidentally getting itself in Don't Walk On The Grass's lane. Both Dave the Tortoise and Don't Walk On The Grass failed to finish the race.
Ad blocker interference detected!
Wikia is a free-to-use site that makes money from advertising. We have a modified experience for viewers using ad blockers

Wikia is not accessible if you've made further modifications. Remove the custom ad blocker rule(s) and the page will load as expected.