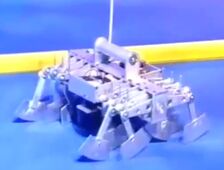 Cheeky Boy 1 was a competitor that competed in the Battery Sprint event of Techno Games 2001 and 2002. It performed really well as it placed 2nd overall behind Scuttle and won the N.E.S.T.A. Award for being the best robot overall in 2001. It lost its heat the following year to Jimmy Struts after getting stuck on a wall.
Ad blocker interference detected!
Wikia is a free-to-use site that makes money from advertising. We have a modified experience for viewers using ad blockers

Wikia is not accessible if you've made further modifications. Remove the custom ad blocker rule(s) and the page will load as expected.